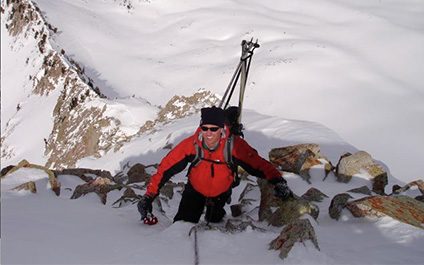 We hope to raise money to help fund teachers salaries in the village of Thame, Nepal. As well as the continuation of our lunch program, which provides a hot meal for young Sherpa children who trek several hours to school without food for the day.
Mark your calendar and join Apa for a very special evening October 6th from 6-10pm at the  Himalayan Kitchen in Salt Lake City, UT.
We are excited to introduce our keynote speaker Scott McIntosh, who is a dedicated expert on hypothermia, frostbite, high altitude disorders, avalanche medicine, mountain trauma and safety in the mountain environment. His vast mountaineering achievements include the SuperSherpa Expedition to Mt. Everest
 We will also be showing the award winning film  "Loved By All, the Story of Apa Sherpa."
Silent auction with outdoor gear, photography and artwork
Come experience traditional Nepalese cuisine and dancing.
Keynote speaker:
Dr. Scott McIntosh is internationally recognized in the field of mountain medicine. He is a tenured faculty member in the Division of Emergency Medicine at the University of Utah. He received degrees in Biology and English Literature at Duke University. He then began guiding rock and ice climbs as well as mountaineering throughout the world. Dr. McIntosh earned his medical degree from the University of Vermont and a Masters in Public Health from the University of Utah.
He serves as the Medical Director of Summit County, where he oversees all teaching and clinical aspects of the paramedic and ambulance services. He also serves as Associate Medical Director of AirMed, the University of Utah's medical flight service. Dr. McIntosh's role also includes Director of the Wilderness Medicine Fellowship, which trains graduates in the academic and clinical skills of this specialty. He has authored over 30 scientific papers and book chapters in the fields of mountain medicine and emergency medicine. Dr. McIntosh served as Editor-in-Chief of the Wilderness & Environmental Medicine Journal, the premier medical journal for mountain and wilderness medicine, and on the Board of Directors for the Wilderness Medical Society. He has been the rescue physician on Denali for three seasons, and is the co-Director of the Diploma in Mountain Medicine program in the United States.
Dr. McIntosh lectures widely on the subjects of: hypothermia, frostbite, high altitude disorders, avalanche medicine and rescue, mountain trauma, and safety in the mountain environment. He has been on the expert committee that has developed the Wilderness Medical Society international medical guidelines on the topics of: hypothermia, high altitude medicine, frostbite, lightning injuries, pain management, and avalanche medicine.
Research interests and areas of focus:
Epidemiology of mountain accidents and fatalities
High altitude medicine and prevention of acute mountain illness
Hypothermia in avalanche victims
Avalanche safety, trauma, and medical care
Mountain search and rescue
Skiing and snowboarding injuries
Helicopter emergency medical services
Mountaineering accomplishments (selected):
SuperSherpas Mt. Everest Expedition, Nepal
Denali, Alaska
Mt. Huntington, Alaska
Aconcagua, Argentina
Carstensz Pyramid, West Papua
El Capitan, Yosemite
Alpamayo & Chopiqualqui, Peru
Television and video appearances:
"Extreme Rescue" - documentary of high altitude rescue physician on Denali
"SuperSherpas Everest Expedition" Video - research physician on Mt. Everest for documentary extolling the physical aptitude of the Sherpas
"Ang Rita Sherpa and High Altitude" - Medical and High Altitude Expert for Stan Lee's Superhumans Series on The History Channel
"Diploma in Mountain Medicine and Avalanche Rescue," Inside Edition
Multiple news interviews on topics of: frostbite, hypothermia, mountain injuries, drowning, etc