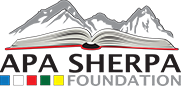 OUR BENEFICIARY
We are very proud and humbled to be collaborating with a U.S. based foundation known as the Apa Sherpa Foundation. The dynamic international Apa Sherpa Foundation is a non-profit organization on a mission to support children of Nepal through education. They provide teacher support and improvement of the educational experiences for children in the form of hot lunch programs, much needed school supplies, aid in rebuilding of school buildings and clothing. In the words of Apa Sherpa, "Without an education, we have no choice". The ASF work tirelessly to provide the opportunity for education for all. This includes education of better health. Together we will be working closely to ensure that each rural village receives toothbrushes as well as the oral hygiene syllabus into the school's daily activities, the Apa Sherpa foundation will be assisting with ground logistics with schools, teachers and villages. The Apa Sherpa Foundation was the perfect organization to partner with as they have existing relationships and are already running projects with most of the villages and schools in the Solo Khumbu Valley.
WHO WE ARE
Trek for Change (TFC) is both a fundraising campaign and a movement that uses the medium of trekking as the conduit to bring positive change in the world. We focus on rural and underprivileged communities and the environment mostly in Nepal and the Himalayas. In the very near future we will be setting up and replicating these projects in India. Trek for change tries to identify the basic needs of these rural communities by collaborating with established organizations that are working closely within these communities already. For the past two years, the focus has been on oral hygiene and basic environmental education with the schools and communities. In 2018 the core focus was on the plight of the world's big cats and how rural communities live in harmony with these big cats helping to conserve them. We also began implementing the Oral hygiene project by distributing eco-friendly bamboo toothbrushes and basic oral hygiene education. All of the areas we work in have limited to no access to basic dental care due to remote locations and families that face abject poverty. Our collaboration with the Humble Co. and the Humble Smile Foundation made these giveaways possible through generous donation of these toothbrushes. Their aim is to help prevent suffering caused by oral diseases by developing and sharing effective and sustainable models of oral health to communities with high unmet needs. In 2018 we distributed 2000 of the eco-friendly bamboo toothbrushes. This year we are very excited to announce that we are going to be distributing 5000 toothbrushes throughout the major rural areas of the Solo Khumbu Valley in the Everest region of the Himalayas of Nepal. The expedition's main mandate and focus for this year will not just encompass distributing the 5000 toothbrushes, but also to ensure that the children make oral hygiene a part of their daily life's routines.
THE EXPEDITION
The team heads to Nepal in the mighty Himalayas to an area known as the greater Solo Khumbu Valley.
This region is one of the most populated by Sherpa people, many who are very impoverished. Our team will trek for 27 days through the small and very remote villages in the Solo Khumbu as we make our way to Everest Base Camp and then across three high passes. Each school we visit will see the expedition team facilitating the giveaway of toothbrushes and spending time with the kids and teachers to implement an oral hygiene program. This will ensure that the bamboo toothbrushes given are used properly to improve general oral hygiene and day to day life for kids and communities.
THE HUMBLE COMPANY MADE THIS POSSIBLE WITH ECO-FRIENDLY BAMBOO TOOTHBRUSHES
We are most grateful for the very generous donation and support of 5000 eco-friendly bamboo toothbrushes made possible by The Humble Co. and the Humble Smile Foundation. The Humble Smile Foundation's mission is to help prevent suffering caused by oral diseases by developing and sharing effective and sustainable models of oral health promotion for communities with high unmet needs. Humble Smile Foundation empowers communities to improve their children's nutritional and oral hygiene behaviours to help keep smiles on the faces of kids that live in the most vulnerable areas around the world, and who often have never seen, let alone used a toothbrush.
WHY ORAL HYGIENE
Many of these rural villages are very remote and most of the families very poor. We believe that oral hygiene and access to a toothbrush and basic oral hygiene knowledge is vital for a foundation towards a good quality of life, hence our implementation of the project in 2018. Oral health is fundamental to general health and well-being. Poor oral health affects quality of life as a result of pain or discomfort, tooth loss, impaired oral functioning, disfigurement, missing school time, loss of work hours and sometimes even death. Oral diseases are among the highest prevalent health conditions in the world. The Global Burden of Disease Study estimated that oral diseases and conditions (untreated tooth decay, severe periodontitis, and tooth loss) affect 3.5 billion people worldwide. Disability-adjusted life-years due to real conditions increased by 64% from 10.3 to 16.9 million between 1990. The WHO "World Health Organisation," has declared oral disease as a critical public-health problem (alongside alcohol, health and nutrition of children, food safety, tobacco use).
About the Projects foundering member.
Gareth's passion and love for wildlife, the environment, philanthropy and people started at a young age. As far back as his school days, Gareth was involved with the local outreach programs and various projects. This passion then evolved with time and soon became a major part of His life. He ran numerous projects working with communities, as well as more recently, some environmental projects. His latest project focused directly on Oral Hygiene and uplifting the rural schools and children in the Himalayas.
Looking back at his life experiences, Gareth finds them overwhelmingly humbling- "I have been lucky enough to spend time with the most iconic, beautiful and regal animals that sadly now have limited time to roam our great African plains due to habitat loss and pressure from poaching and mankind. I have also been fortunate enough to see how a small acts of kindness can dramatically change another beings life in the biggest way possible.
Gareth has a simple but beautiful philosophy to live by and that is " We all have a higher purpose to fulfil while on this planet and this is a motivating and driving force behind his precious time spent on the earth."
Trek For Change is a movement that hopefully will soon broaden its reach and uplift more communities and people throughout the world. Making a difference one step at a time..