Trip Introduction
Trekking Nepal is a spiritual, physical and emotion cleanse of the deepest sense. The mountains are the original reason most people travel to Nepal and they don't disappoint. The majesty of them is indescribable. Even with the splendor of the Himalayas, most people return to Nepal because of magnificent people they encounter. Once a year we give this opportunity to others. Trekking with the ASF allows you a unique experience that most trekkers don't enjoy. We add the personal touch of service to our friends in the Everest region. You have the life changing moments like no other. This April, the Apa Sherpa Foundation will be hosting a deluxe trip with Apa Sherpa himself to the Mt. Everest region of Nepal. During this trek, you will make your way through his home village and on to the base camp of Mt. Everest (EBC). To stand among the Himalayan mountains is an indescribable experience. Along the way, you will experience serving the school children of the Khumbu. Join us in making a positive change, not only in the lives of the children we serve, but also within yourself. During the trek, you will stay in Tea-houses in some of the highest villages in the world as you explore the local culture and traditions. You will have the luxury of having your large bags carried for you by porters. This should further take the strain off your body and allow you to focus on getting yourself safely up and back down the trail.
Highlights
Trek with Apa Sherpa, which is a unique experience
Humanitarian experiences throughout the trek
Everest Base Camp, the roof of the world
Stand on the highest glacier on Earth- Khumbu Glacier
Explore the colorful and vibrant city of Kathmandu
Visit Swayambhunath "Monkey" Temple
Visit Namche Bazaar
Hike through Sherpa villages
Dramatic take off and landing in Lukla
Local Sherpa guides and porters
Experience Sherpa Culture and tradition
High suspension hanging bridges
Tibetan Buddhism, monks and practice
Visit to Apa's home village of Thame
Rest days and acclimatization hikes to ensure high altitude safety
View of the majestic Himalayas en-route to Everest Base Camp and return
Breathtaking view of Mount Everest Sunrise from Kala Pathar
April 17-18 Depart for Kathmandu
April 19 Arrive in Kathmandu - transfer to hotel
April 20 Kathmandu prep for trek and briefing Hotel in KTM
April 21 Transfer to airport for international depar-ture KTM-Lukla-Ghat-Phakding Hotel in KTM
April 22 Phakding-Namche Lodge
April 23 Namche-Khumjung (acclimation hike)-Back to Namche Lodge
April 24 Namche-Thame Lodge
April 25 Thame- visit school and monastery for the day Apa's Lodge
April 26 Thame-Khumjung HER
April 27 Khumjung-Tenchboche Lodge
April 28 Tengboche-Dingboche Lodge
April 29 Dingboche (acclimation hike) Lodge
April 30 Dinboche-Lobuche Lodge
May 1 Lobuche-EBC-Gorak Shep Himalayan lodge
May 2 Gorak Shep-Kala Patar-Pangboche HER
May 3 Pangboche-Namche Sherpa Land
May 4 Namche-Phakding Camp De Base
May 5 Phakding-Lukla Paradise
May 6 Lukla-Kathmandu Hotel
May 7 Kathmandu: tour city Hotel
May 8 Kathmandu- evening international departure Hotel
Apa Sherpa Trek Itinerary * www.apasherpafoundation.org * dates may vary +/- 2 days
The most challenging element of the trek is probably elevation. Even at the start of the trek at Lukla airport you will be at an altitude of over 8530 feet (2,600m) . As most people's bodies are not used to these altitudes, the trek involves acclimatization days and the ascent to Everest Base Camp will occur at a much slower pace than the descent to allow for acclimatization and to ensure safety. Days when the elevation gain is large and the altitude is significantly high will usually be followed by an acclimatization day that doubles up as time for some sightseeing and exploration of the surrounding areas. Here is an Everest Base Camp trek elevation and altitude profile for the standard trek.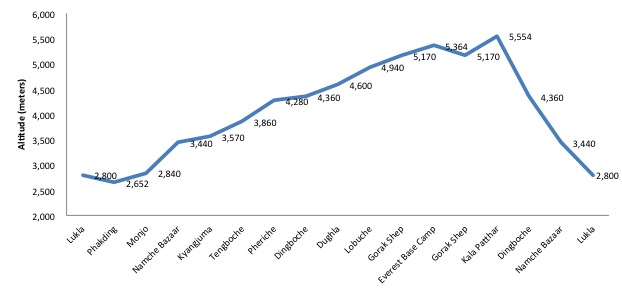 The highest point on most Everest Base Camp Treks tends to be the Kala Patthar viewing point where you will be see the sun rise over Everest and the nearby peaks. Kala Patthar stands at just over 18044 feet (5500m), but not too much time is spent at that altitude as the trek then descends back down to Pengboche and eventually back to Lukla Airport.
20 Day Trek With Apa Sherpa:
$4799 ($1000 non-refundable deposit)
Payments are made directly to Apa Sherpa Foundation and are tax deductible Deposit will be put toward trekking cost
Cost Inclusive:
Trekking with Apa Sherpa, which is a once in a lifetime experience
Special humanitarian experiences at the schools we support
Transfer from airport to hotel in Kathmandu
Hotel in Kathmandu for 5 nights with breakfast
Sightseeing entrance fees and cab fare in Kathmandu
Round trip flights between Kathmandu and Lukla
All necessary paper work, trekking permits, government taxes and Everest National Park entry fees.
An experienced English-speaking Sherpa, Govt. registered trekking guide
Local porters to carry luggage
Guide and porter salaries (excluding tip), insurance, equipment, food and lodging
Breakfast, Lunch & Dinner of your choice while trekking
Accommodation in tea-houses while trekking
Cost Exclusive:
International airfare
Lunch and dinner in Kathmandu
Bottled drinks and snacks
Boiled or bottled drinking water during trek
Electronic device re-charge
Wi- Fi while trekking
Hot shower while trekking
Travel insurance (*required)
Tips for guides and porters
Souvenirs
Highlights
Trek with Apa Sherpa, which is a unique experience
Humanitarian experiences throughout the trek
Everest Base Camp, the roof of the world
Stand on the highest glacier on Earth- Khumbu Glacier
Explore the colorful and vibrant city of Kathmandu
Visit Swayambhunath "Monkey" Temple
Visit Namche Bazaar
Hike through Sherpa villages
Dramatic take off and landing in Lukla
Local Sherpa guides and porters
Experience Sherpa Culture and tradition
High suspension hanging bridges
Tibetan Buddhism, monks and practice
Visit to Apa's home village of Thame
Rest days and acclimatization hikes to ensure high altitude safety
View of the majestic Himalayas en-route to Everest Base Camp and return
Breathtaking view of Mount Everest Sunrise from Kala Pathar