Testimonials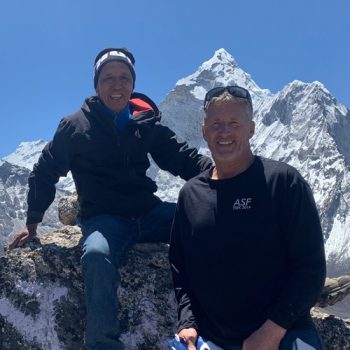 Last December I had been considering a trip to Africa to climb Kilimanjaro. While it is still on my list, I put that on hold when I learned of an opportunity to go to Nepal and hike to and above Everest Base Camp. It was even more enticing when I learned that I could trek alongside Apa Sherpa himself. I also love doing charity work and sharing with others some of the things that I've been blessed with. All of this was on the agenda through the Apa Sherpa foundation.
All of the foundation members who made the trip, along with others from around the world were so great to room with, hike with and be with! Thule is a wonderful sponsor of the foundation and they gave to each trekker a pack, duffel bag, and other items. Apa himself is a very generous and humble man, posing for pictures along the way with anyone who asked. It was exciting to pick his brain on the details of the many ascents he made on Everest! We were treated so very well and our Sherpa's and porters were nothing short of amazing. A wonderful experience giving school items and clothes to the Nepalese school children. I know that going with this group may cost a bit more and maybe takes a day or two more but it was so worth it! Truly a trip of a lifetime! 5 🌟!!
Steve Clegg
---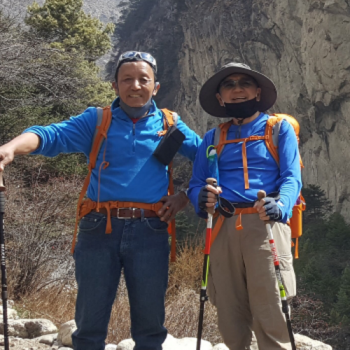 My memory never fails to hold experiences as real as can be and as time goes by I tend to forget that parts which I struggled like being short of breath or coughing every time we climb steep slopes. Pictures and videos like Jens just makes them more vivid. True that experiences are better than stuff. I miss everyone from our trekking party. Maybe I'll bring some dried mangoes and purple yam in Annapurna.
Dr. Ed